32 Best Remote Jobs for Moms (Stay at Home Mom Jobs)
These are the best remote jobs for moms (stay at home mom jobs) that will help you earn some extra cash. Learn how stay at home moms can make money.
Finding the best remote jobs for moms can make the difference between struggling to live on one income or having more freedom in your budget to pursue the lives you have dreamed about. These stay at home mom jobs will help you make money and allow you to be home with your kids, too.
Stay-at-home moms know that their time is limited. Between completing household chores, taking care of the children, and many other errands and tasks, it might seem impossible to find time to find a stay at home mom job.
But there are ways to make real money as a stay-at-home mom.
By waking up early, or staying up late, working around nap time, or while your kids are in school, you can accomplish your dreams.
You can work at home AND stay at home with your kids. The ultimate dream to many mothers is to be able to make money and be at home with their family.
And it's not some elaborate fairy tale. It can be a real life scenario in your household.
Some of the best ways for stay-at-home moms to earn money are by working from home. Remote jobs for moms help them live out their dreams of earning money while raising their kids.
How do stay at home moms make money?
The easiest way for stay at home moms to make money is by finding a remote job. Work from home jobs that allow you to work a flexible schedule around your children's routines are the best for stay at home moms.
You could also consider working a part-time flexible job, such as bartending on the evenings on the weekends, or working a weekend shift if your spouse works weekdays.
Let's review the best stay at home mom jobs for 2022.
Disclaimer: This post may contain affiliate links. This means that I may earn a commission if you make a purchase through my links. This is at no extra cost to you. View our full disclosure here.
MAKE EXTRA CASH
Instacart Shopper – You can either shop in-store for others, or you can choose to do both the shopping and delivery. The great part about being an Instacart shopper is that you can make your own schedule and get paid weekly!
Survey Taker – Take some online surveys in your spare time to create some extra income. This won't be a full-time opportunity but can generate a little extra cash.
Rover – Pet Sitter – Get paid to play with pets. As a pet sitter, you can set your own schedule and prices. You can offer pet boarding, dog walking, doggy daycare, house sitting, or drop-in visits. And – you get paid two days after you complete your service!
Best Remote Jobs for Moms
Blogging
Blogging is a great way to earn a full-time income from your home while doing something you love.  It is my favorite way to earn money from home.
Blogging will not make you money overnight.  It does require you to have to put in many hours of hard work, but the pay off is substantial if you keep at it.
Some bloggers make six figures a year.  There are many different ways to monetize your website, whether through advertising networks, affiliate marketing, selling your own products or courses, sponsored posts, and more.
We have a step-by-step guide about how to start a blog that goes into detail about how to set up your blog, as well as how to get started creating blog posts, and how to make money with your own website.
The best part about starting a blog is that it's a relatively inexpensive business to start at only $2.95/mo.
Blogging can be a life-changing long-term career plan, that has the potential to retire your spouse. 
However, it can take a few months before you begin to make money with a blog. So it's important to keep working at it, and to find other ways to bring in an income in the meanwhile.
Related post: 18 Amateur Blogging Mistakes to Avoid
Teach online classes to school age children
You do not need a formal teaching degree in order to become a teacher on their platform.  However, they will require a background check.
Teachers must reside in the US, Canada, Australia, New Zealand, or the UK.
The great thing about Outschool is that you are in control of the class price and number of students in each class you teach.
You have the ability to teach a class one time, or it can be an ongoing weekly or monthly class.  You will instruct online, live classes through Zoom on their teaching website.
Become a teacher with Outschool.
Read our Outschool review.
Transcription stay at home mom jobs 
Transcription is another great way to make money from home.  Transcription involves listening to audio files and then typing out what you hear.
In order to do this job, you must have a good headset, computer, and be able to type quickly.
The job can be monotonous at times but it is a fairly easy job once you get the hang of it.  Sometimes accents can be difficult to understand while listening to the audio samples.
You will want to make sure you have a quiet environment to work in while working as a transcriptionist.
You can learn more about transcription work by checking out these free courses that explain the job in more detail and help you get a successful head start.
Free General Transcription Mini-Course
Free Legal Transcription Mini-Course
Then learn where to find remote transcription jobs.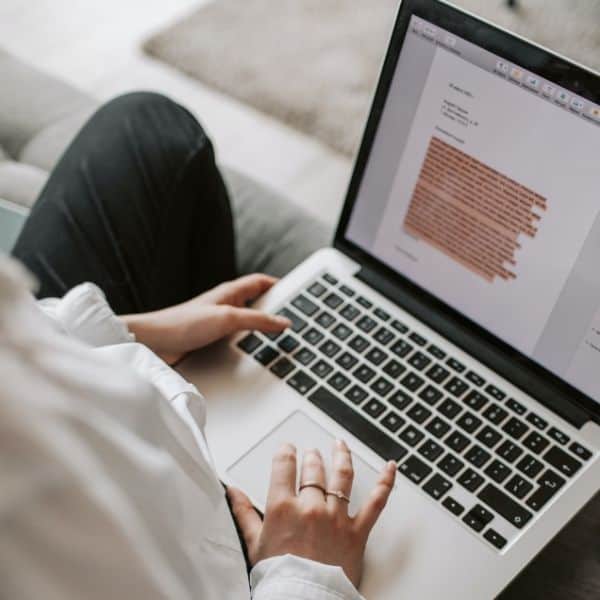 Photo by Vlada Karpovich from Pexels
Proofreading jobs for stay at home moms
Are you great at grammar?  You could earn a decent living wage as a proofreader.
Proofreaders review word documents to check their grammar, spelling, punctuation, and other typographical errors.  It's a great way for stay at home moms to make money from home if they love to read.
As a proofreader, you could work for a company or you could build your own business as a freelance proofreader.
Check out a free webinar, Proofread Anywhere, to learn how to get started with this stay at home mom job.
This free webinar goes into detail about all of the skills needed to build your business and find your clients.
Freelance writing (one of the most flexible remote jobs for moms)
A freelance writer is someone who gets paid to write for blogs and other publications.  Many companies will pay you to write articles for them.
The amount you get paid will depend on the company, your work, and your experience, as well as your writing samples.
You may want to consider writing guest posts for other blogs for free at first in order to have samples of your work available.
Then you can reach out to other bloggers, small businesses, and companies to see if they are looking for writers.  You could also apply to job boards that are specifically for writing gigs, such as Problogger or Blogging Pro.
You could also search on Google for a topic you would like to write about, such as parenting or mental health.
Your search would look like this: "parenting + write for us."  The search results should show you websites and publications that are looking for writers in your field.
If you are interested in writing about travel, you can also reach out to local businesses who have their own websites and see if they are looking for contributors.
This is a great stay at home mom job because it is very flexible and has the potential to allow you to make a lot of money working from home.
Virtual assistant
Virtual assistants help other businesses complete a variety of tasks from home.  They can work for almost any business that might need help.
For example: a real estate virtual assistant could help a real estate agent with marketing and lead generation from home.
Virtual assistants can specialize in fields such as social media, ad management, graphic design, keyword research, customer support, lead generation, data entry, digital marketing, ad copy, and more.
A lot of moms work as a blog virtual assistant or social media virtual assistant.  They help the blogger with tasks such as creating graphics or Pinterest pins, creating social media posts, and more.
Being a virtual assistant is a great way for stay at home moms to make money from home.
Customer service representative online jobs for stay at home moms
If you do not mind talking to customers on the phone, then becoming a customer service representative is a great stay at home mom job.  Especially if your kids are at school during the day, and you have some quiet time to yourself to work.
If your kids are small and at home with you during the day, then you would need childcare (a nanny, mother's helper, a spouse, or older sibling) who could help.  This may not be one of the best online jobs for stay at home moms for those who do not have help during the day.
If this job sounds like a good fit for you, these companies offer customer service positions to work from home:
Amazon work from home customer service jobs
American Express
Sykes
U-haul
Care.com
Hilton
CVS
1-800 Flowers
Apple
Read more about remote customer service jobs.
More work from home jobs for stay at home moms
Best work from home jobs for moms selling digital printables
If you have a knack for graphic design, you could consider creating printables to sell online.  Etsy has a huge market for digital downloads.
You can create a variety of different types of printables ranging from printable wall art featuring images, quotes, bible verses, etc.; wedding invitation templates, coloring pages, planners, Instagram templates and filters, and so much more.
Creating and selling digital printables is one of the most wonderful work from home jobs for moms.  Most printables just require you to create them, then list them in your store, and then you are done.
They will continue to sell even when the work is done, making this a great form of passive income for stay at home moms.
You can use the free version of Canva to create your printables, and commercial-free stock photos from Unsplash or Pixabay.
You can also purchase commercial free photos, templates, and icons to use in your printables from Creative Market.
(Remember, you should never use photos you find on Google on a product that you intend to sell, for legal reasons!)
Learn how to make your own worksheets and printables with Tracie Fobes' course: Easy Printables Course
Sell educational lesson plans
You could also sell educational and learning printables on Etsy.
Are you a teacher, homeschool parent, online teacher, or just a parent who loves to make printables and worksheets for your students?
Teachers and homeschool parents that create their own rewards, lesson plans, unit studies, worksheets, games, etc. can earn money from this work from home job for moms.
I recommend setting up a store on Etsy, as well as creating a store on Teachers Pay Teachers.
Teachers Pay Teachers is a marketplace that allows teachers and parents to find educational printables for sale.
This can become a great form of passive income making it a perfect stay at home mom job.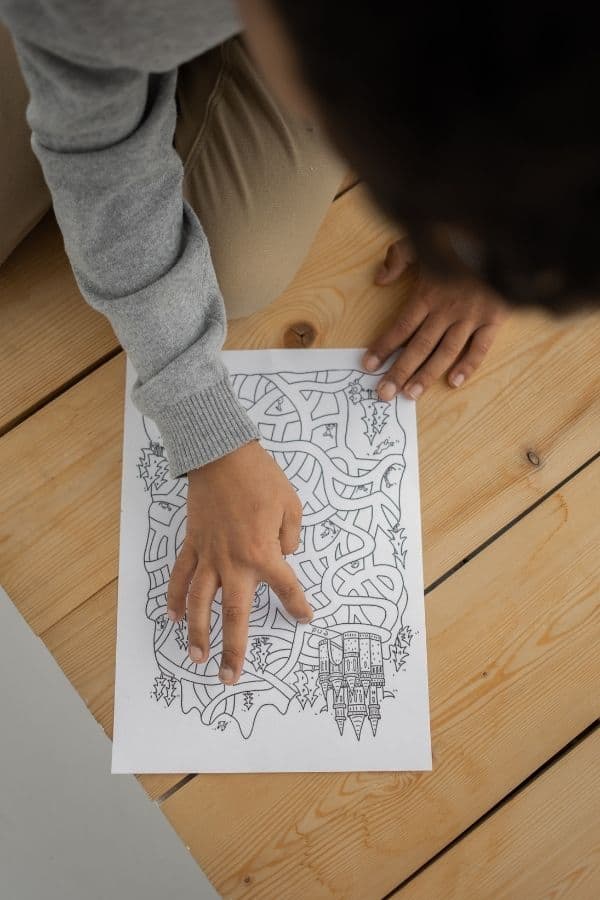 Search engine evaluator (one of the best jobs for stay at home moms with no experience)
Web search evaluators are paid to browse Google and analyze search engine results.
This is a great stay at home mom job because unlike other work from home jobs for moms, you can do this with your kids in the room with you, and can take as many breaks as needed.
Stay-at-home parents that want to work from the comfort of your own home on your own hours (without making any phone calls) may be interested in this legitimate work.
Google raters typically work 10-20 hours per week, and are paid hourly.  This is a great part time work from home job for moms.
Read more about search engine evaluation jobs.
Sell your services on Fiverr
Fiverr is a marketplace where you can sell your skills to others.  If you are great at graphic design, writing, video editing, coding, marketing, or other freelance services, then you have the opportunity to sell them through Fiverr.
You choose your price starting at $5 – $995, and create a profile on their website.  When you complete jobs, you get paid.
Check out Fiverr here.
Work as a nanny or babysitter
This is one of the stay at home mom jobs that could be done outside of the home, or at your own home.
The great thing about becoming a nanny or babysitting, is that many families will allow you to bring your own child with you to work.
This makes it a great work from home job for stay at home moms.
As a nanny, you will watch one or more children while the parent(s) works.  The job may include light housekeeping, food prep, school pickup, or help with homework, as well.
With daycare costs rising everyday, many families are willing to pay someone that they can trust to do the job at their house.
If you can find a family with more than one child to watch, the earning potential increases.
You could also look for a part-time job at a local gym, church, or daycare.  Some of these places may let you bring your child to work with you for free.
So even though it wouldn't be a work from home job, it's still a great stay at home mom job.
Sign up for a free account at Sitter City to find local jobs in your area.
In-home daycare
Check with your federal and local laws to see what are the requirements to open an in-home daycare in your area.
As an in-home daycare, you would be responsible for a group of kids while their parents are at work during the day.
Flipping products
When you flip a product, you buy it at a low price then sell it at full price, keeping the difference as profit.
You can find products to flip at places like flea markets, yard sales, thrift stores, and estate sales.
Learn how this couple has made $133k flipping products and how you could get started with this potentially lucrative stay at home mom job.
Take surveys to earn money
Did you know that there are companies out there that are willing to pay you for taking online surveys?
It's market research to help them create better products, and examine what's working and what isn't working for customers around the world.
Surveys usually take about 15-30 minutes each, and can typically pay up to $15.
You will not become rich from taking surveys online, nor will it be a full-time job.
But you can earn some spending money with little effort on your part. It is a great option for those looking for an easy way to bring in some extra cash through a side hustle.
The best survey sites to sign up with are Survey Junkie and Swagbucks.  By signing up with both, you will have more surveys to earn from.
With Swagbucks you will also be able to earn free gift cards by watching videos and playing games, as well as taking surveys on their site.  They give you a free $5 to start when you sign up.
Teach music online
Online teaching is one of the most fulfilling work from home jobs for stay at home moms.  If you know how to play an instrument, then you could teach it to others.
As an online music instructor, you can teach students all around the world.  You can teach virtually through an online platform such as LessonFace or Outschool, where students find you through their online service.
You could teach as a freelance music instructor using websites such as UpWork and Fiverr to find clients. You can also set up your own website and teach through Zoom.  You can find clients through your own advertising, social media, and word-of-mouth.
Here are some tips for teaching music online.
Amazon jobs for stay at home moms
Yes, Amazon offers virtual jobs from home.
While they offer a variety of entry-level roles in customer service, they also have other virtual jobs available that are a great job option for moms at home.
Learn about how to get started working from home with Amazon.
Bookkeeping
If you are good with numbers and keeping track of finances, or have experience with bookkeeping, this could be a great stay at home mom job to earn money from home.
Bookkeepers complete tasks such as taking record of invoices and receipts, as well as organizing and classifying expenses and income.
Bookkeeping has the potential to be one of the top paying stay at home mom jobs from home.
If you have no background or experience in finance, then you can find a free online accounting and bookkeeping course from Harold Averkamp (CPA, MBA).
Dropshipping
What is dropshipping?
Dropshipping gives you the ability to sell products without keeping any live products in stock. Your online store will promote and sell products, but a third-party supplier will keep the inventory in stock and send the product to the customer.
A popular example of dropshipping is selling T-shirts online.  You would create your own designs and send them to a company such as Printful, who would then print them on demand and ship them to your customer every time you get an order.
Then you can set up a store on a platform such as Shopify, Etsy, Amazon, etc., and connect your account to your printing company.
Whenever a customer purchases a t-shirt from your store, your print-on demand company (Printful, Print Aura, etc.) will automatically print your product and ship it to the customer.
Dropshipping has the potential to become lucrative with the right products and promotion.  Using a marketplace such as Etsy or Amazon can increase your chances of success and get your products in front of a larger audience.
Influencer
Vlogging has become very popular in the last few years with YouTube, and TikTok has gained momentum all around the world.
The rise of influencers through platforms such as these or Instagram has increased substantially in the last few years.
Did you know that some YouTube channels make millions of dollars each year?
Ryan, from Ryan's World, makes $26 million a year from his channel, which originally began as an unboxing channel.  Unboxing is when you open toys or other products, and explain how they work and what you think about them.
YouTube allows you to earn money through advertisements once you reach a threshold number of subscribers and views on your videos.
You also have the potential to sell affiliate products to your subscribers as well, which could help you earn extra cash.  This is when you promote brands you love in your videos, then in your description you leave a product link.
As an affiliate, if a subscriber decides to make a purchase through your affiliate link, then you would earn a commission.
Influencers on Instagram can also use affiliate links in their stories and bios to make extra money.  A great way for influencers on Tik Tok and Instagram to earn money is by accepting paid sponsorships.
This means you would reach out to companies (or they reach out to you), and you would promote their brand on your account.  In return for your promotion to your followers, they would either pay you or give you products for free.
All of these options would take a while to earn money until you grow a large audience.
Create a product or course on Teachable
One way that bloggers earn extra money is by selling online courses or products through their websites.
If you are an expert at a specific skill such as social media, SEO, marketing, vlogging, keyword research, or another topic that people want to learn about, then you could create your own course around that topic to sell to others online.
Customers will be interested in taking courses that can accelerate their career growth, even if they have a larger price tag.
Make and sell crafts 
Do you know how to sew or knit? If you love to make products such as blankets, sweaters, bows, quilts, and more, you could sell them.
If you own a Cricut or Silhouette, you have even more crafts you could create.  Some great ideas are creating decals, wooden signs, decorations, wedding invitations, party supplies, T-shirts, jewelry, and more.
If you decide to use an online marketplace such as an Etsy shop, you can start selling your products quicker because they already have consumers who are looking to make purchases.
Creating a business page on Facebook to sell your products to your friends and family is another way you could generate money from your business.  You could also set up a booth at a local craft market.
Travel agent
Do you love to plan vacations and trips? Did you know that you can work as an at home travel agent and help others plan and book their vacations?
Despite the ease of booking your own trips on the internet, many travel agents are still helping clients plan trips to places such as Disney World, cruises, business trips, destination weddings, and more.
As a travel agent, you will get paid a commission for each trip you help book.  This means the more trips you plan, the more money you would make.
Paid focus groups
By searching your city, you can find local focus groups near you.
But, there are also many online focus groups that you can join to make money as a stay at home mom.
Respondent.io is a company that pays up to $140 per hour for your participation in their online focus groups.
Remote jobs for moms as an insurance agent
There are many different insurance fields you can specialize in, with life insurance paying the most.  Some other options are auto insurance, health insurance, and more.
Becoming an insurance agent does require you to take a formal class to prepare for a licensing exam from your state.  Some companies may require a formal degree, as well.
Working from home as an insurance agent can be a difficult job but it can pay well for those who are willing to do the work.
Flexible stay at home mom jobs outside of the home
Take care of pets
With Rover, you can make money by walking dogs, checking in on pets at their homes while their owners are gone, offering pet boarding services, or pet-sitting local animals.
If you love animals, then this could be a great way to earn extra cash while being a stay at home mom.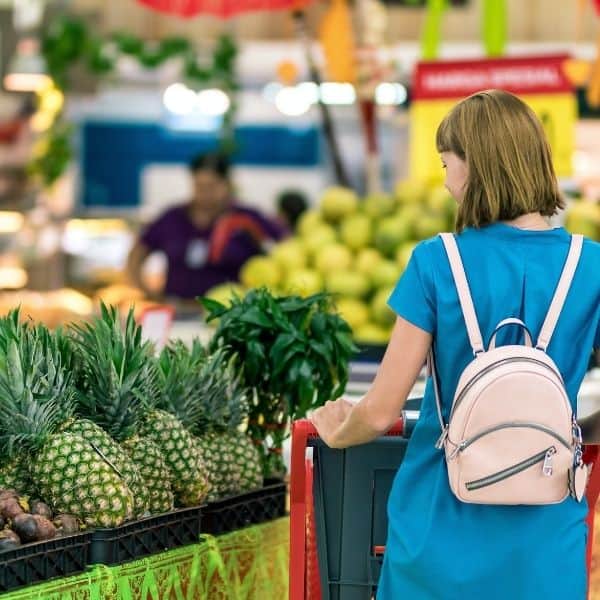 Photo by Artem Beliaikin from Pexels
Photographer
I have the Canon EOS Rebel SL3 / 250D and absolutely love it.  My husband used to be a traveling photographer and used a similar version of this camera in the past.
Photographers can be hired to take a wide variety of photos such as holiday minis, baptism photos, newborn photos, family Christmas photos.
You could also make money photographing homecoming, prom, graduations, birthdays,  engagements, weddings, and military homecomings.
Being a photographer is one of the most flexible work from home jobs for moms because you can just work a few hours here and there outside of your home, and earn a good chunk of money.
Events such as graduations and military homecomings could earn you $200-$300 for just a couple of hours of work.  Weddings have an even bigger earing potential, depending on your skill and expertise.
We paid our wedding photographer $1200 for the day, and that was with a discount because he was a friend of ours.  Depending on your skill, you could earn even more for one day's worth of work.
You can also consider selling your photos to stock photo websites such as Adobe Stock, Getty Images, and Shutterstock.
Become a property manager
A property manager is a person who gets paid to take care of real estate properties for the owner.  Their duties are to collect rent, set rent, screen prospective tenants, maintain the property, manage budgets, and other similar tasks.
Property managers can make up to ten percent of the rent cost each month.  The more money the rent is, the higher your earnings will be.
As a property manager, you may have to be a licensed real estate agent or have a property management license.  Each state may have different requirements, so make sure to check with yours.
Become a substitute teacher
One of the best jobs for the stay at home mom who has school-age children is to become a substitute teacher.
Each state has different requirements to become a substitute teacher ranging from only needing a high school diploma to requiring a bachelor's degree.
Substitute teachers work in the classroom as a teacher if the primary instructor is out for the day.
They are put on a call list and when there is an opening for a substitute teacher, you will get a phone call the morning of the day you are needed.
This is a great job for a stay at home mom because you can teach at your children's school.
Substitute teacher's with a background in education will make the most money from this job, while those with only a high school diploma will earn a little less.  The pay is typically around $80 – $100+ a day.
Notary & Loan Signing Agent
Notaries are present when someone signs important documents for a mortgage, will, power of attorney, etc.
Notaries that also get certified as a loan signing agent can earn potentially more at about $75 per hour.
Loan signing agent must be present when loans are signed.  They will witness the signature and then file the paperwork for the client.
Real estate agent 
Real estate agents are a great stay at home mom job because they allow you to work flexible hours, and have the potential to pay a high salary.
You must pass a licensing exam to become a real estate agent in the U.S.  Real estate agents make a commission off of the properties they help rent or sell.
The more properties you are able to rent out or sell, the more money you can earn.
Is working from home not for you?  Check out these jobs that you can bring your child to work.
Now that you know how stay at home moms can make money, it's time to find your perfect stay at home mom job.  Which of these remote jobs for moms do you want to try?